Introducing Rose Colored Gaming's Gameboy Advance Light +!  These are Gameboy Advance units (AGB-001) that have been modified using our backlight kits.  Prices vary based on options, so here's a breakdown.
Each pre-modded Gameboy Advance comes with:
Custom packaging that also acts as a storage case for your new toy
2-way brightness switch
Unique model label and serial number
New plastic lens
30 Day limited Warranty*
Prices start at $150.00 shipped withing the US.  A glass lens is available for an additional $12.00.  Custom paint is available (as seen in the clear red unit below).  Prices for paint range from $15.00-25.00 depending on color and finish desired.  If you would prefer to not have the 2-way switch installed, then $10.00 will be removed from the total.
You may also send in your own GBA to be modified.  The base price for the service/parts is $125.00.  The options mentioned above are all available with this service as well.
I'm open to requests for those of you that would like a specific color GBA.  Keep in mind that the price will vary, as I'm searching the used market for these units.  Rarer colors will generally be more expensive.  I figure $25.00 into my price for a good working unit from the pool of common colors such as purple/grape, white, silver, glacier (clear light purple), and translucent pink (which makes an excellent candidate for the red paint job seen below).
Enough blah blah, here's a vid that illustrates the difference between the two brightness settings and a couple of pictures of the original GBA SP versus a modified GBA (AGB-001)
lower brightness setting
higher brightness setting
And here's what to expect in the mail when you order one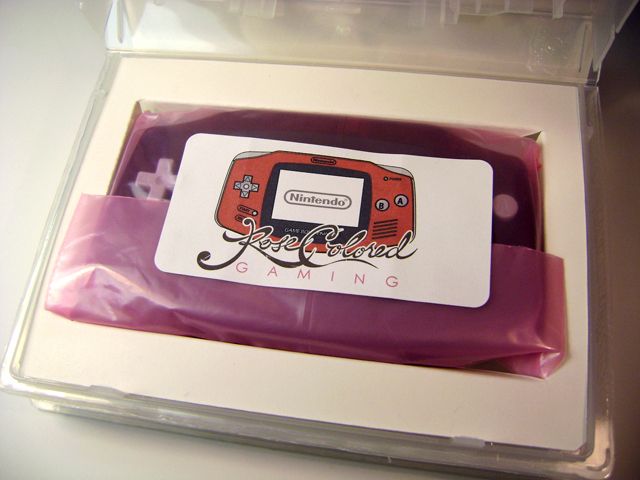 *Warranty covers installed parts and workmanship.  Original Gameboy Advance hardware is not covered.